Who we are
Welcome To Zion ATV Tours!
We want to be your local, on-the-ground contact near Zion National Park. Our Polaris RZR equipment offers fun, thrill-seeking adventures at Zion ATV Tours. When you are looking for an outdoor adventure in the beautiful Southern Utah mountains, give us a call!
We take adventure-seeking travelers, just like you, on heart-pounding small group tours to see breathtaking views of Zion Canyon. This is not a boring big bus tour. This is a real adventure with UTV tours on sand trails and up and over large rocks. Virgin, UT is home for us. The Virgin River is our backyard, and we know all the nooks, crannies, and hidden gems that make this place so special.
Come with us, drive an ATV, and take in stunning views of nearby Zion National Park. We'll take care of the details, like goggles, helmets, and water. We want to get your adrenaline pumping on our off-road tours. You come to Southern Utah for the rugged beauty and the thrill of an adventure. Let us help you find more of what you came to see.
Explore our activities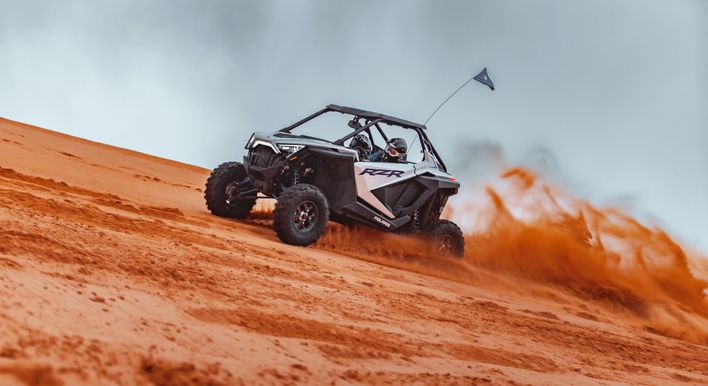 Among our most popular recreation areas is Sand Hollow. Featuring rock crawling, sand dunes, and endless trail rides with spectacular views, Sand Hollow has everything you need for a fun day. We offer several tours in the Sand Hollow park located in Hurricane, Utah. With so many sights to see and trails to explore, we are confident we've covered everything!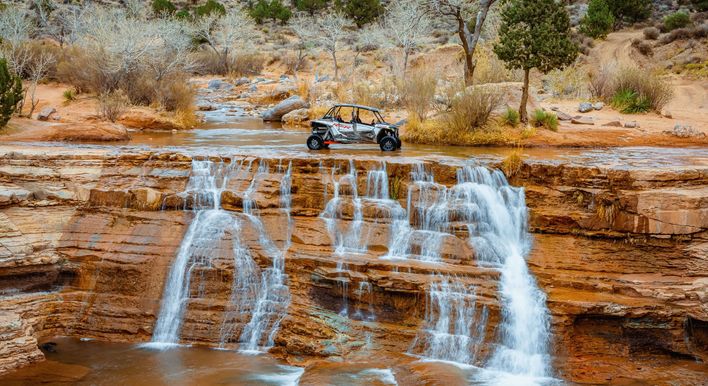 The Zion Boondockers tour is a beautiful route out on the west side of Zion by the Virgin River. You will see river overlooks, mesas surrounding you, and Zion National Park just to the east. Ride a 2 seat or 4 seat Polaris RZR, we offer corporate tours as well!
We are an experienced team of professionals who love to have fun on an ATV tour! You'll ride either a 2-seat or 4-seat Polaris RZR. We have exclusive access to the closest trails near Zion National Park. Whether you choose the Red Bull Rampage route or our Zion Boondockers tour on the west side of Zion, you are sure to have a thrilling adventure!
Excellent Service
Providing our customers with exceptional experiences makes us happy. We want everyone to enjoy the thrill of off-road riding and the fun of discovering Zion's beautiful places with us! We take pride in our work and are delighted to serve our local and tourist guests.
Knowledgeable Guide
Our local guides are well informed about the location, the equipment, and the history of the region. They will make sure that our guests have a great time and get the most out of their trip.
Great Equipment
We make certain that the equipment we provide to our guests is in excellent condition as well as ensuring that the equipment is up to the task and is mechanically sound. Also, all of our models come installed with a hard top for shade as they enjoy the outdoors.
Location
Explore Southern Utah
Zion National Park is a member of Utah's "Mighty 5", a network of awe-inspiring national parks in Southern and Central UT. Arches, Bryce Canyon, Canyonlands, and Capitol Reef, are the other four members of the Mighty 5. The scenery in this area includes vast open landscapes, hoodoos, sandstone, arches, and more. Each year, hikers come to Zion to traverse famous trails like Angels Landing, the Narrows, Canyon Overlook, and the West Rim Trail.
The busiest season for any of the Mighty 5 parks is anytime the kids are out of school. Students, teachers, and their relatives can usually only travel during school holidays, making this the busiest time. Make the most of your time by getting up early to arrive before the rest of the holiday travelers. Look for opportunities to travel off the beaten path, just outside of the park, to avoid the masses.
Frequently asked questions
Most frequent questions and answers
Recent news
Picture this: the wind rushing through your hair, the sun shining down on your face, and the thrill of off-roading adventures in one of America's most beautiful national parks. Zion National Park is a paradise for nature lovers and adrenaline…
Looking for the perfect family vacation destination that combines thrilling off-roading adventures with stunning natural beauty? Look no further than Zion National Park! With its red sandstone cliffs, winding canyons, and diverse wildlife, this breathtaking national park is a must-visit…
Southern Utah provides the perfect playland for outdoor enthusiasts. Utah's impressive "Mighty Five" national parks are all located in the southern part of the state, perfect for outdoor recreation. Trekkers find plenty of hiking trails among the scenic parks scattered…